Krakow, Poland.
One of the oldest cities in Europe! The capital of Bulgaria, Sofia is filled with history and culture. Visit its city center to observe its neo-classical buildings with communist structures, its Soviet-era statues, its domed churches, and its grand galleries, nestled in the heart of Poland, Krakow stands as a testament to the nation's rich history, captivating architecture, and vibrant cultural scene. With its cobblestone streets, medieval market squares, and awe-inspiring landmarks, this enchanting city has secured its place as a must-visit destination for travelers seeking a blend of old-world charm and modern excitement. In this travel article, we'll embark on a journey to discover the most popular places to see and stay in the captivating city of Krakow.
Krakow, Poland's second-largest city, is a historical and cultural hub. It's famous primarily for its medieval sites. Europe's largest medieval market square, Rynek Glowny in Krakow, is definitely worth a visit. We can add the Wawel Castle, a spectacular medieval complex that faces out into the Vistula River bank, to the list of the city's must-see attractions.
Krakow is a city that the Second World War left a lasting impression on. Kazimierz and Podgórze are two districts well renowned for their Jewish history. They are notable for housing the Museum of Polish Jewish History. You can visit the former Auschwitz concentration camp nearby Krakow to gain a better understanding of the tragic Shoah's history.
Top Attractions: A Glimpse into Krakow's Heritage
Rynek Główny (Main Market Square): At the heart of Krakow lies one of Europe's largest medieval market squares, a bustling hub of activity surrounded by colorful buildings, charming cafes, and horse-drawn carriages. The Cloth Hall (Sukiennice) stands as the square's centerpiece, housing an array of craft stalls and souvenir shops.

Wawel Castle: Perched atop a limestone hill overlooking the Vistula River, Wawel Castle is a symbol of Poland's royal past. The castle complex boasts a mix of architectural styles and houses the Wawel Cathedral, a site of coronations and burials for Polish monarchs.

Kazimierz District: Once the heart of Jewish life in Krakow, the Kazimierz district is now a vibrant neighborhood known for its artistic flair, historical synagogues, and eclectic range of cafes, art galleries, and boutiques.

Schindler's Factory: A somber but important stop on Krakow's historical trail, the Schindler's Factory Museum tells the story of Oskar Schindler and the Jews he saved during World War II. The museum's exhibits provide poignant insights into the city's wartime experiences.

St. Mary's Basilica: A stunning example of Gothic architecture, St. Mary's Basilica is renowned for its intricately carved wooden altarpiece and the Hejnał Mariacki, a bugle call that rings out from the tower each hour.
Accommodation: Where Comfort Meets Polish Hospitality
Old Town: Staying within the boundaries of the Old Town ensures convenient access to many of Krakow's major attractions. There is an array of options, from boutique hotels with a historic touch to modern accommodations offering all the amenities.

Kazimierz: For those who want to be immersed in the bohemian spirit of the Kazimierz district, numerous boutique guesthouses and stylish apartments are available, often housed in renovated historic buildings.

Podgórze: This area, just across the river from Kazimierz, offers a more local and residential atmosphere. It's an excellent choice for travelers looking to experience Krakow away from the tourist crowds.

Krakow's Luxury Hotels: The city boasts several high-end hotels that cater to travelers seeking luxury and comfort. These establishments often offer stunning views, spa facilities, and exquisite dining experiences.

Hostels and Budget Options: Krakow is also known for its budget-friendly accommodations, including backpacker hostels and guesthouses. Many of these options provide a great way to meet fellow travelers and exchange stories.
Culinary Delights: Savoring Krakow's Flavors
No visit to Krakow would be complete without indulging in its culinary treasures. Polish cuisine is hearty and flavorful, and the city offers a range of dining experiences, from traditional to modern:
Pierogi: These delightful dumplings come filled with a variety of ingredients, from potatoes and cheese to meat and mushrooms. They are a quintessential Polish dish.

Obwarzanek Krakowski: Often referred to as Krakow's answer to the pretzel, these doughy treats are a popular street food, sprinkled with poppy seeds or salt.

Zurek: A traditional soup made from fermented rye flour, served with sausage and hard-boiled eggs. Its tangy flavor is both unique and delicious.

Traditional Polish Restaurants: Many eateries in Krakow serve up classic Polish dishes in charming surroundings. Look for cozy restaurants that offer dishes like bigos (hunter's stew) and kielbasa (sausage).

Cafes and Bars: Krakow's cafe culture is vibrant, offering a range of experiences from historic venues to modern, artsy cafes. Don't miss the opportunity to try a cup of rich Polish coffee.
Krakow's blend of history, art, and gastronomy creates a unique travel experience that captivates every visitor. Its preserved architecture, cultural heritage, and warm hospitality make it a destination that transcends time, allowing travelers to step into a world where the past and present intertwine in harmonious beauty. Whether wandering through the cobbled streets of the Old Town or savoring the flavors of Polish cuisine, Krakow promises an unforgettable journey into the heart of Europe's soul.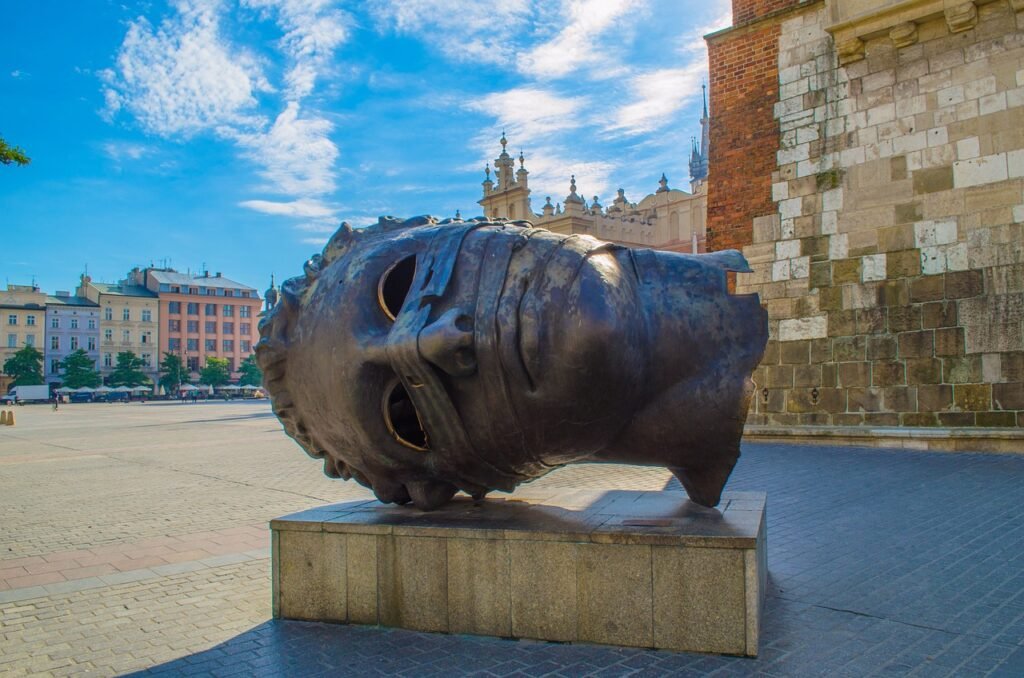 Sofia, Bulgaria
Nestled in the heart of Eastern Europe, Sofia, Bulgaria is a destination that has been quietly gaining popularity among travelers seeking a unique and authentic experience. With its rich history, vibrant culture, delicious cuisine, and affordable prices, Sofia is a hidden gem waiting to be explored. I will take you on a trip through Sofia, highlighting the best places to see, things to do, food to eat, and places to stay in this captivating city.
Places to See:
Alexander Nevsky Cathedral: Begin your journey with a visit to this magnificent cathedral, an iconic symbol of Sofia. Its stunning architecture, golden domes, and intricate interior will leave you in awe.In the center of Sofia, St. Alexander Nevsky Cathedral is one of the symbols of the city. Impressive inside and out, this huge Orthodox monument can accommodate up to 10,000 worshippers. A place to visit, absolutely, whatever your faith
National Palace of Culture (NDK): NDK is a cultural hub and a true architectural masterpiece. You can enjoy exhibitions, concerts, and festivals here, or simply take a leisurely stroll around the park.
Vitosha Mountain: Escape the city and venture into the picturesque Vitosha Mountain. Whether you're an avid hiker or just want to enjoy the fresh mountain air, Vitosha offers countless trails, ski slopes, and panoramic views.
Ivan Vazov National Theater: Marvel at the elegance of this historical theater, named after Bulgaria's beloved poet and playwright. Catching a performance here is a cultural experience not to be missed.
Sofia Central Mineral Baths: Explore the remnants of a Roman-era bathhouse right in the city center. The stunning architecture and historical significance make this site a must-visit.
Things to Do:
Visit the Rila Monastery: While not in Sofia itself, the Rila Monastery is a short day trip away. Its breathtaking frescoes and serene atmosphere make it one of Bulgaria's most treasured landmarks.
Shop at Vitosha Boulevard: Discover Sofia's vibrant shopping scene on Vitosha Boulevard. From fashion boutiques to traditional markets, this street offers a delightful mix of modern and traditional shopping experiences.
Try Bulgarian Folklore Night: Immerse yourself in Bulgarian culture by attending a folklore night. Enjoy traditional music, dance, and cuisine while getting a taste of Bulgaria's rich heritage.
Explore the Central Market Hall: Delight your senses with a visit to this bustling market. Sample local delicacies, buy traditional souvenirs, and interact with friendly locals.
Relax in a Thermal Spa: Sofia boasts several thermal spas where you can unwind in hot mineral pools. This is the perfect way to relax after a day of exploring.
Food to Eat:
Banitsa: Start your day with this delicious pastry filled with cheese and eggs, often enjoyed with a cup of Bulgarian yogurt.
Kavarma: Savor a hearty stew made from tender meat, vegetables, and fragrant herbs. It's a true taste of Bulgarian comfort food.
Shopska Salad: Enjoy a refreshing salad made with tomatoes, cucumbers, peppers, onions, and feta cheese, drizzled with olive oil and sprinkled with parsley.
Kebapche: Sink your teeth into seasoned grilled sausages, usually served with a side of fresh bread and tangy lyutenitsa sauce.
Bulgarian Wine: Don't miss the opportunity to taste Bulgaria's excellent wines. Visit a local winery or enjoy a glass of red or white wine at a cozy restaurant.
Places to Stay:
Sense Hotel Sofia: This modern and stylish hotel offers luxury accommodation with stunning views of Vitosha Mountain.
Grand Hotel Sofia: Located in the heart of the city, this elegant hotel provides easy access to Sofia's attractions and a touch of luxury.
Hostel Mostel: If you're a budget traveler, this cozy hostel offers a warm and friendly atmosphere at an affordable price.
Boutique Hotel Crystal Palace: This charming boutique hotel combines comfort and sophistication, making it a perfect choice for a romantic getaway.
There is no shortage of trendy restaurants and lively bars here! Vitosha Boulevard, Sofia's main pedestrian street, is one of the city's famous places to go out. Sofia, Bulgaria, is a city that effortlessly blends its rich history with a modern, dynamic vibe. From awe-inspiring architecture to mouthwatering cuisine, Sofia offers a diverse range of experiences that will captivate any traveler. So, pack your bags and embark on a journey to this enchanting destination in Eastern Europe. Sofia awaits, ready to reveal its hidden treasures and warm hospitality to all who venture here.
Český Krumlov, Czech Republic
 A Fairytale Escape in the Czech Republic, Less touristy than Prague, but just as charming! Český Krumlov is a quaint little town you'll love exploring. If you go there, don't hesitate to get lost in its small Baroque-style alleys, which will lead you to its sumptuous 13th-century castle, one of the largest in Central Europe.
Nestled in the picturesque Bohemian region of the Czech Republic, Český Krumlov is a place that seems to have sprung from the pages of a fairytale. With its medieval charm, meandering Vltava River, and well-preserved architecture, Český Krumlov is a true gem waiting to be discovered. I will explore why Český Krumlov is a dream destination, offering the best places to see, things to do, food to eat, and places to stay.
Places to See:
Český Krumlov Castle: Start your journey with a visit to this majestic castle, a UNESCO World Heritage Site. Explore its grand courtyards, historic interiors, and the Castle Tower for panoramic views of the town.
Latrán: Wander through the enchanting streets of Latrán, a medieval district filled with colorful buildings, charming cafes, and artisan shops.
Český Krumlov Baroque Theater: Step back in time at one of the world's best-preserved Baroque theaters. Take a guided tour to witness the magic of 18th-century theater.
Rafting on the Vltava River: Enjoy a leisurely ride down the Vltava River, which meanders through the town. It's a unique way to soak in the beauty of Český Krumlov.
Egon Schiele Art Centrum: Art enthusiasts will appreciate this museum dedicated to the works of the famous Austrian painter Egon Schiele, who once lived in Český Krumlov.
Things to Do:
Climb the Castle Tower: Ascend the Castle Tower for breathtaking views of the town and surrounding countryside. It's a photographer's paradise, especially during sunset.
Canoeing and Kayaking: Explore the scenic Vltava River by renting a canoe or kayak. Paddle beneath the town's iconic bridges and marvel at the castle's reflection on the water.
Explore the Town Square: The town square is a hub of activity with cafes, shops, and live performances. Sip on a coffee or enjoy local treats while soaking in the atmosphere.
Cycle the Countryside: Rent a bike and venture into the stunning Bohemian countryside, dotted with charming villages and rolling hills.
Visit the Marionette Museum: Discover the artistry behind Czech marionettes at this unique museum. You might even catch a marionette performance.
Food to Eat:
Trdelník: Indulge in this sweet pastry, often filled with ice cream, fruit, or Nutella, available from street vendors.
Kulajda Soup: Sample this creamy and tangy mushroom soup, a traditional Czech delicacy.
Svíčková: Try the classic Czech dish of marinated beef served with creamy sauce and dumplings.
Pilsner Beer: Sip on a refreshing Pilsner beer, a Czech favorite, at one of the town's cozy pubs.
Medovina: Don't miss the opportunity to taste medovina, a honey wine, at local wineries.
Places to Stay:
Hotel Bellevue: This luxurious hotel offers stunning views of the castle and river, along with top-notch amenities.
Pension Nostalgie: A charming guesthouse in the heart of the old town, providing a cozy and authentic experience.
Hostel 99: Ideal for budget travelers, this hostel offers a comfortable stay and a lively atmosphere.
Castle View Apartments: Stay in historical apartments with modern comforts, just a stone's throw away from the castle.
Český Krumlov is a fairytale destination that will capture your heart with its enchanting beauty, rich history, and warm hospitality. Whether you're exploring its medieval streets, savoring local cuisine, or simply gazing at the castle's reflection on the river, every moment in Český Krumlov is a magical one. So embark on a journey to this charming town in the Czech Republic, where every corner reveals a different aspect of your European adventure.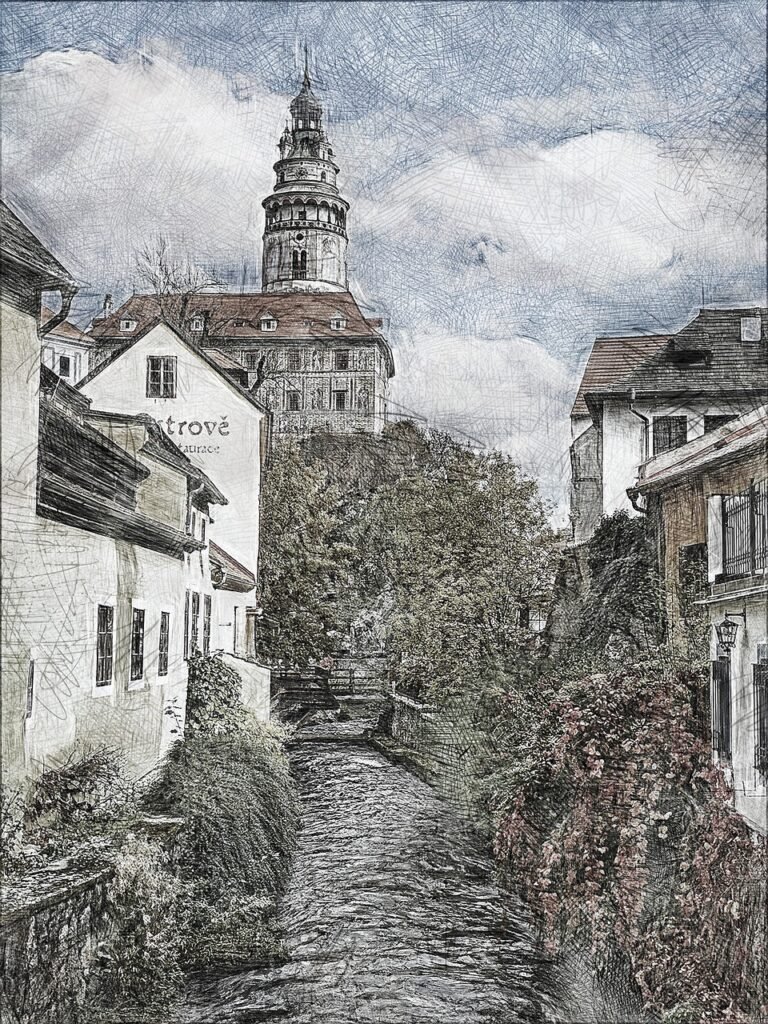 Riga Latvia
The capital of Latvia is the European city with the highest concentration of buildings in Art Nouveau architecture. It also has many art galleries.The Vecrīga, the historic center of Riga, overflows with charm thanks to its small cobbled streets, its medieval buildings, and its museums, including the famous House of the Blackheads
Riga, Latvia: Where History Meets Contemporary Charm
Nestled along the Baltic Sea, Riga, the vibrant capital of Latvia, is a captivating destination that seamlessly blends its rich historical heritage with modern allure. With its picturesque old town, a thriving arts scene, delectable cuisine, and a warm embrace of visitors, Riga has emerged as a must-visit city in Europe. I will show some good things about Riga, highlighting why it's an excellent choice for travelers, featuring the best places to see, things to do, food to eat, and places to stay.
Places to See:
Riga Old Town: Begin your adventure by strolling through the UNESCO-listed Old Town, a charming maze of cobblestone streets, colorful facades, and medieval architecture. Don't miss the iconic House of the Blackheads and the Riga Castle.
Art Nouveau District: Riga boasts the largest collection of Art Nouveau architecture in Europe. Take a guided tour to explore the ornate facades and intricate details of these stunning buildings.
Riga Central Market: Experience the bustling heart of Riga's culinary scene at this immense market, housed in former Zeppelin hangars. Sample local delicacies, from smoked fish to Latvian pastries.
Latvian National Museum of Art: Explore Latvia's artistic heritage at this museum, home to a vast collection of Latvian and European art, including works by renowned painter Janis Rozentāls.
Bastejkalns Park: Relax in this picturesque park, which features a lovely canal, walking paths, and a quaint bridge. It's the perfect place for a leisurely afternoon stroll.
Things to Do:
Ride the Riga Balzams Tram: Hop aboard this unique tram experience that offers tastings of the famous Riga Black Balsam liqueur while showcasing the city's sights.
Riga Opera House: Enjoy a night of culture at the Riga Opera, known for its world-class performances in a stunning historic setting.
Jurmala Beach: Take a short trip to Jurmala, a resort town with miles of sandy beaches along the Baltic coast. It's an ideal spot for sunbathing, swimming, or simply unwinding.
Riga Motor Museum: Car enthusiasts will appreciate this extensive collection of vintage and modern automobiles, showcasing Latvia's automotive history.
Ride a Hot Air Balloon: Experience Riga from a unique perspective by taking a hot air balloon ride, offering breathtaking views of the city and its surroundings.
Food to Eat:
Riga Black Balsam: Try this herbal liqueur, best enjoyed as a shot or in cocktails. Its distinctive flavor is an essential Latvian experience.
Pelmeni: Savor these savory dumplings, often filled with meat, mushrooms, or potatoes, served with sour cream.
Latvian Rye Bread: Sample the country's famous dark rye bread, commonly served with butter, cheese, or smoked fish.
Herring with Sour Cream: Dive into the Baltic tradition of marinated herring served with a dollop of sour cream and accompanied by boiled potatoes.
Birch Sap: During springtime, taste birch sap, a refreshing and slightly sweet Latvian drink harvested from birch trees.
Places to Stay:
Grand Hotel Kempinski Riga: Enjoy luxury and elegance in the heart of Riga's Old Town with stunning views of the Daugava River.
Wellton Centrum Hotel & Spa: A centrally located, modern hotel offering comfort and convenience, perfect for exploring the city.
Rixwell Old Riga Palace Hotel: Stay in a historic building in the heart of the Old Town, providing a unique blend of heritage and modern comfort.
The Three Sisters Hotel: Experience the charm of a boutique hotel set in three historic townhouses, each with its unique character.
Riga, Latvia, offers an enchanting blend of history, culture, and modern vibrancy that captivates travelers from around the world. Whether you're wandering through the medieval streets of the Old Town, savoring Latvian delicacies, or immersing yourself in the city's arts and culture scene, Riga promises an unforgettable experience. So time to embark on a journey to this Baltic gem, where you'll discover a city that effortlessly bridges the gap between past and present, leaving you with cherished memories and a desire to return.
Belgrade, Serbia: Where History, Culture, and Hospitality Unite
Belgrade, Serbia, often referred to as the "White City" due to its gleaming architecture, is a destination that has steadily emerged as a hidden gem in Eastern Europe. Rich in history, vibrant in culture, and warm in hospitality, Belgrade offers a dynamic blend of experiences for every traveler. In this article, i will unveil why Belgrade is an excellent choice for explorers, unveiling the best places to see, things to do, food to eat, and places to stay.
Places to See:
Belgrade Fortress (Kalemegdan): Begin your journey with a visit to this historic fortress, where the Sava and Danube Rivers meet. Explore its centuries-old walls, gardens, and enjoy panoramic views of the city.

Skadarlija: Wander through Skadarlija, Belgrade's charming bohemian quarter. This cobbled street is lined with traditional restaurants, cafes, and live music, offering a taste of old-world charm.

Saint Sava Temple: Admire the grandeur of one of the world's largest Orthodox churches. Its gleaming white marble and intricate mosaics are a sight to behold.

Nikola Tesla Museum: Pay homage to the famous inventor, Nikola Tesla, at this museum showcasing his life and groundbreaking inventions.

Ada Ciganlija: Escape the city's hustle and bustle at Ada Ciganlija, a river island turned recreational paradise. Enjoy water sports, cycling, or simply relaxing on the beaches.
Things to Do:
Belgrade's Nightlife: Experience Belgrade's legendary nightlife by visiting its vibrant clubs and bars. The city truly comes alive after dark, and it's renowned for its electronic music scene.

Boat Cruise on the Danube: Take a relaxing cruise along the Danube River, offering spectacular views of Belgrade's waterfront and the iconic Pobednik (Victor) statue.

Visit the Museum of Yugoslav History: Dive into the history of Yugoslavia and its charismatic leader, Josip Broz Tito, at this engaging museum.

Shop at Zeleni Venac Market: Immerse yourself in the local culture by browsing through this bustling market, where you can find fresh produce, artisanal products, and souvenirs.

Ride the Belgrade Underground: Explore the city's hidden depths by embarking on an underground tour, revealing secret tunnels, bunkers, and catacombs.
Food to Eat:
Ćevapi: Sample these delicious minced meat sausages, often served with freshly baked bread and a side of creamy kaymak.

Pljeskavica: Enjoy Serbia's answer to the hamburger, a flavorful grilled patty usually topped with cheese, onions, and ajvar.

Sarma: Taste this comforting dish of cabbage leaves stuffed with a mixture of minced meat and rice, served with a tomato-based sauce.

Rakija: Sip on Serbia's famous fruit brandy, rakija, which comes in various flavors, including plum and apricot.

Burek: Try this flaky pastry filled with savory ingredients like cheese, meat, or spinach. It's a popular snack available at bakeries throughout the city.
Places to Stay:
Hotel Moskva: Embrace history at this iconic hotel, offering a central location, elegant accommodations, and a touch of timeless luxury.

Saint Ten Hotel: Experience modern sophistication at this boutique hotel located in the heart of Belgrade's historic district.

Hostel Bohemian Garni: Ideal for budget travelers, this hostel provides a cozy and welcoming atmosphere, perfect for making new friends.

Metropol Palace, a Luxury Collection Hotel: Enjoy a blend of contemporary comfort and opulence at this upscale hotel, known for its world-class amenities.
Belgrade, Serbia, is a city where layers of history, vibrant culture, and warm-hearted people converge, creating an enchanting tapestry of experiences for travelers. Whether you're exploring ancient fortresses, dancing the night away, indulging in local cuisine, or simply enjoying the city's laid-back charm, Belgrade promises a journey like no other. So, venture into the heart of the Balkans, where the White City will captivate your senses and leave you with cherished memories of an extraordinary adventure.